"There was an idea. Vipul knows this, called the Mixster Author initiative. The idea was to bring together a group of of remarkable people to see if they could become something more. To see if they could collaborate when Mixster needed them to, to write content that we I alone never could."

Adapted from Nick Fury's speech from Avengers (2013)​​​​​​​
Mixster Author team page was something that was going on at the back of my head for about 5 months now, but I could never come across the right inspiration or the time to accomplish the same. The initiative came from the team that I started with and ended up hiring for full time work. Happy to say the side hustle is working out well.
Working with  ̷f̷o̷r̷  People
I have been contributing to OSS for about 4 years now. Both online and offline. I started out by contributing to organisations and projects on GitHub to write code, fix technical documentation and propose new experimental ideas that would help make it better. I was good at it, it gave my mind the creative freedom to do what I loved and build something for the community as a whole. But, never did I actually contributed to earn a buck out of it. It just ain't me.  
So, with the will to diversify & grow my skills. I started to convert my own blog, Mixster into an initiative. An initiative that helps, works and collaborate with organisations, companies, tech startups fix their documentation, clean out their dusty blog pipeline and actually refabricate the social media infrastructure into a content powerhouse. That works for users to grow their knowledge base, answer questions that they might have, or get their message heard among the right circles much more clearly and cheaply.  
A year and thousands of lines of documentation, and blogs later for 20+ clients, the work seemed to get somewhat stale. I assessed what was lacking. I knew what needed to be done.  I kept coming back to the same question.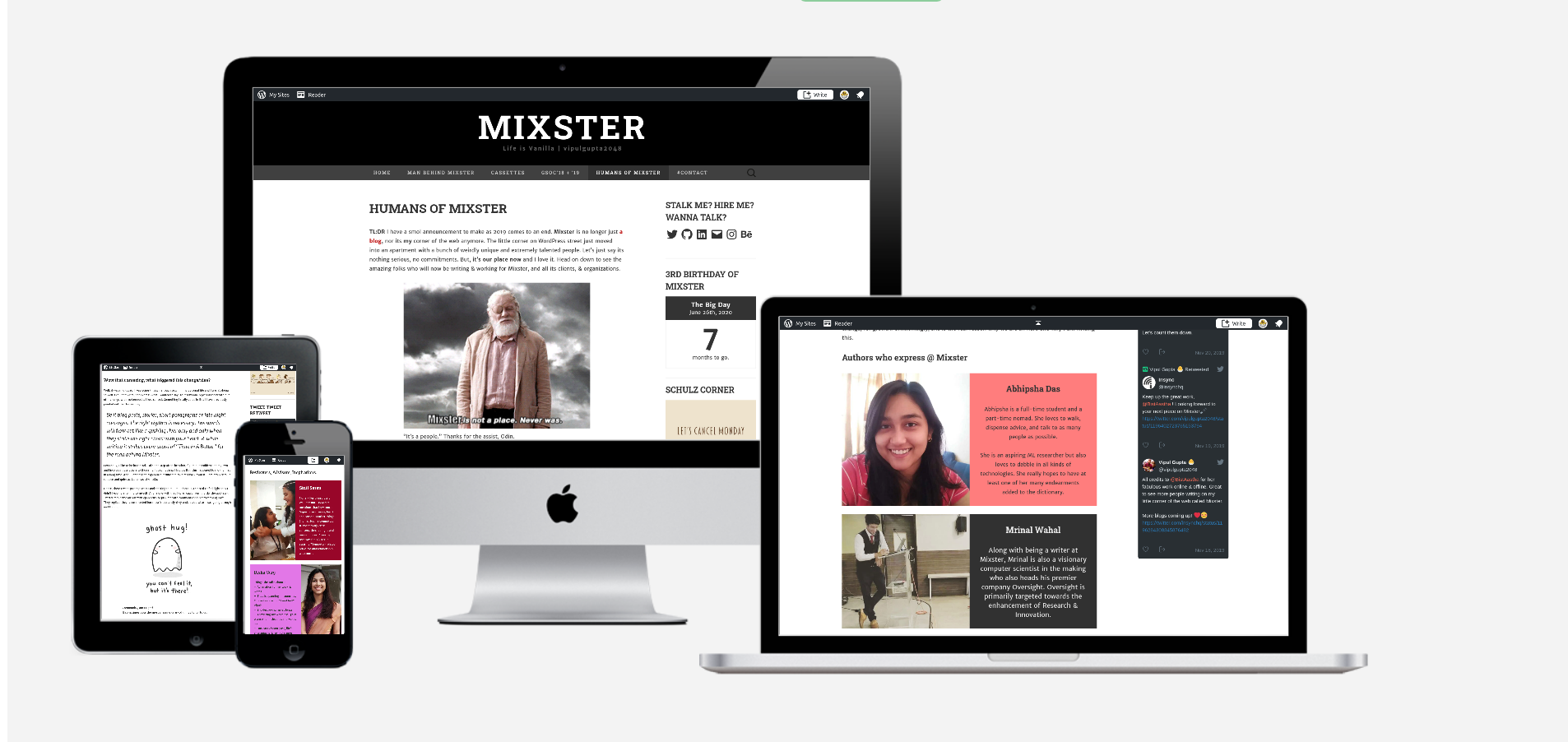 Could I do it alone? Yes. Do I really want to? No. 
With that I, I set out to find more people like me who would want to work with me on my initiative. People who are extremely skilled, enthusiastic enough to learn, and pack a unique brand of their own energy towards content. June 2019, is when I started setting up Mixster for the transition and landed by biggest client project yet. September 2019, I started looking for freelance technical writers through my network. October 2019, I was drowning with emails and interviews from all over the world. Luckily, after much mining and searching. I deviated from my plan of looking for just 2 people to hiring 6 writers for the Mixster Author team, and several other people. ​​​​​​​
Where to from now?
Quite frankly, not sure about the where. But, the direction is surely going to be upwards with a lot of new content being produced by the new team. I value my writer's work and time as much as I would like value mine, that's why we give a lot of freedom to the writers to pursue their own path, choose their own topic and make their own deadlines.
That's where I feel Mixster is taking the first step into building a community of writers, bloggers and documentation specialists. People from all walks of life that come together to learn new skills, get new opportunities and just vibe together. I am sure the one below agrees.​​​​
One last thing …
Let me know if you like to use the code for the Team blog that we for Mixster for your own use. It's free and open for use. Also, if you liked what you read about the work we do and the passion behind it, then consider hiring us to write for you and your organisation.

You can contact me anywhere on the internet, through vipulgupta2048
Read the official announcement tweet here. 
Read the blog, Humans of Mixster
Or just catch me anywhere on the web by vipulgupta2048
Read this on Behance instead.